China is on the verge of making history. Excluded from participation in the International Space Station program, they have gone their own way and launched a small space station in orbit.
Now they are about to launch three astronauts - taikonauts as they are known in China - to visit the station. It will be a two-week mission. Launch is set for 8:37pm Australian eastern time.
Check your local time here
.
To watch the launch, tune in to China's CCTV Live:
http://english.cntv.cn/live/
It may may best to avoid the HD feed, as there seems to be a lot of breaking up in the broadcast.
Included in the flight crew is China's first female astronaut - People's Liberation Army Air Force fighter pilot Liu Yang.
The orbiting Tiangong-1 space lab was launched back in September, and in November China conducted a successful test docking with a robotic Shenzhou-8 capsule, launched on their Long March-2F rocket. You can
read more background on China's space plans
, or watch this video:
Here's a good summary of the mission: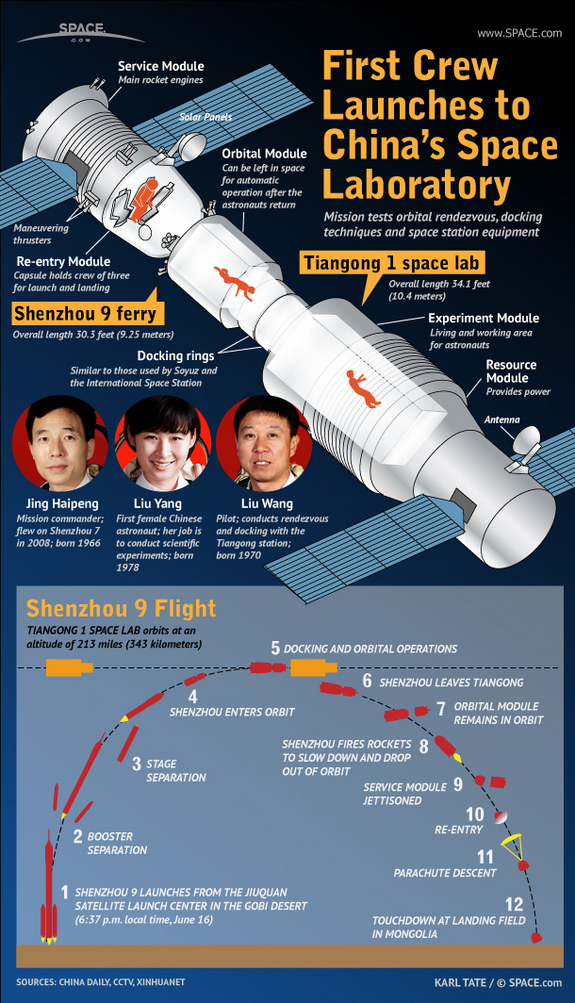 Source
SPACE.com: All about our solar system, outer space and exploration