(I've progressively updated this post throughout the news coming in on 15 February and again the next several daya, so please check the latest information at the bottom. And don't expect quality writing—it was just a case of bang up the updates as quick as possible as they came in via my various astronomy and social media sources.)
This is an incredible bit of footage of a large meteorite coming over a Russian city and exploding.
At 50 seconds into this clip, you'll see an amazing flare that gives you an idea of just how close and bright this meteorite was. The description reads:
"Above Chelyabinsk was meteor rain: some houses shattered windows, some residents received cuts."
In this clip, you can see the contrail left behind, and then (off camera) you hear an loud explosions and followed by multiple smaller explosions and alarms in the background:
Most amazing footage yet of the moment of the explosion:
I'll keep updating this post as more comes in.
Magnitude 6.6 earthquake
reported from the hit.
Another perspective of that big hit:
Chaos inside a school:
Could it be that these meteorites were travelling close to tomorrow's
asteroid
2012 AD14, and were missed while everyone was observing the big one? No doubt there'll be a lot of questions about this over coming days. And calculations of the trajectory of this hit will reveal whether it was related to tomorrow's monster.
However, perhaps—together with tomorrow's close pass—this might help get the attention of government decision makers who have been busily slashing funding for astronomers who are trying to find these things BEFORE they hit us. If we find the big ones far enough out, we would be able to do something about it. But once they are as close as 2012 AD14, there's nothing to do but the old "duck and cover":
Another clip showing the moment of the impact:
Here's a Russian compilation of photos and clips
.
Fast work by @BadAstronomer Phil Plait
who says that these meteorites came from the wrong direction to be related to 2012 AD14.
The trail left by the meteor was seen from space by the
Meteosat
satellite:
Meanwhile, that other asteroid—the one that isn't going to hit us—2012 AD14 has been captured on camera and compiled into this cool animation by
astronomers at the newly re-opened Siding Spring Observatory
here in Australia:
Remember, this asteroid is the size of a bus. Today's meteor in Russia has been determined to have been under one metre in size. We must do more work to detect asteroids and plan ways to deflect them from collisions paths. Yet these are the very projects that governments have been raiding to top up failing budgets. Even in Russia, such a project was about to be slashed. Maybe not after today!
Lots of different names here for things flying in the skies. To clarify: an asteroid is a rock flying in space (as opposed to a comet, which is a snowball flying in space). A meteor is an asteroid (usually just grain of sand scale) that enters our atmosphere and can be seen by it burning—a.k.a. a shooting star. A meteorite is a rock that does all of the above, and makes it all the way to the ground, a.k.a. the most sought-after items in Russian today! Don't burn your hands Ivan: those meteorites will be freezing cold long after hitting. Yes that's right: cold. Not hot. Space is very very cold.
Update via @SkyNewsBreak from the Russian Ministry of Emergencies (yes: they have one of those) says
"524 people have been injured after meteor shower, 82 of them are children and two are in intensive care."
I think it's a safe bet that you'll find the meteorite in there
(Update: turns out this damage was also caused by the shockwave rather than a direct impact; wow)
:
This footage is dodgy handheld while driving, but shows the impact site, and also the shockwave damage to the building on the opposite side of the street:
A final thought before I retire for the night, in preparation for trying to photograph 2012 AD14 in the morning (I'd like to credit the original artist—it's on the picture but too small for me to read...):
There's been a bit more work done overnight, with reports coming in of other impact sites. The estimate now is that the Russian asteroid entered at about
15 metres diameter, and some 7000 tonnes
.
This image shows a hole in lake ice where another fragment of the meteor hit (via Reuters)
(Update: turns out this was the impact site of the main meteorite—plenty of people will be keen to retrieve it!)
:
The Guardian reported
that Tim O'Brien, associate director of the University of Manchester's Jodrell Bank Observatory, described the time gap between people seeing the contrail in the sky, and then being hit by the sonic boom, which for some witnesses was as much as two minutes after the meteor passed:
This reasonably large chunk of rock was moving faster than the speed of sound, maybe 20,000 miles per hour. It made a sonic boom in the atmosphere, and that hit buildings and shattered windows. That is what seems to have caused the injuries.
It's a completely abnormal experience. This thing appeared in the distance, raced over the horizon and was followed up 30 seconds or a minute later by a huge boom as the shock wave hit the ground. I can imagine that would be very frightening.
Here's another perspective on when that boom hit, about one minutes into the clip:
There are now a reported 1100 people who were injured, with 48 hospitalised.
Even further apart, this carcam footage shows the meteor passing over at 4:40, then the shockwave hitting the car at 7:00:
Check the reaction—or lack of it—of the guy in this car when the flash goes across the sky. Just another day in crazy Russia??
This guy was lucky where he was standing!:
What IS it with these Russians and their zero reactions? I'd be all "holy crap what the hell was that..." passengers or not...
Mega fail for this eastern European (Russian?) news report that showed footage purportedly of a meteorite crater, but it is actually old footage of a burning gas crater in Turkmenistan, as described with the
original YouTube clip
:
The Derweze area is rich in natural gas. While drilling in 1971 geologists accidentally found an underground cavern filled with natural gas. The ground beneath the drilling rig collapsed, leaving a large hole with a diameter of about 50-100 meters. To avoid poisonous gas discharge, it was decided to burn the gas. Geologists had hoped the fire would go out in a few days but it has been burning ever since. Locals have named the cavern The Door to Hell.
Next to capturing the gas, flaring is safer and friendlier to the environment than releasing the methane into the atmosphere as methane is a relatively potent greenhouse gas with a high global warming potential of 72 (averaged over 20 years) or 25 (averaged over 100 years).
Apparently a lot of people fell for this one. But here's the thing: a meteorite has come from space, where it is near absolute zero—or minus 273 degrees Celsius. Any 'burning' on the surface due to entry would be quickly replaced by the inner cold, making a fire most unlikely. In fact the biggest risk for someone finding a fresh meteorite is burning themselves from the cold surface.
This is a pretty incredible map, showing
every (known) meteorite impact location on Earth
.
Neil deGrasse Tyson has tweeted two very good points:
One twentieth of one percent: The fraction of NASA's budget allocated to locating Killer Asteroids.
One half of one percent: The fraction of the US Federal Budget allocated to all of NASA's activities.
Nifty "what do I call it" flowchart
by Mark Nottingham at
Earth And Solar System
(in case you don't click through there):
Here's a great infographic via the Telegraph in the UK, explaining where the meteorite fragments hit, with almost 300 buildings damaged, and showing how the Russian event was not linked to Asteroid 2012 AD14:
So we now know that the main fragment hit some 80 kilometres away, and that was the hole in the iced up lake. Remembering that most of the damage done in the city (apart from the large factory) was done by the shockwave, imagine if that main chunk had hit a populated area?
Experts estimate (as an extrapolation of such events involving undetected asteroids) that we know of less than one in a hundred of the rocks out there in Earth-intersecting orbits. This is why the world's governments need to (jointly—it's not all up to the USA and NASA) fund a serious monitoring effort.
Here's an
interesting sound profile of the event
, about 600 kilometres from the 'hypercentre', by Milton Garces (@isoundhunter), PhD, Founder and Director, Infrasound Lab, University of Hawaii (hat tip to Emily Lakdawala):
You can clearly see the points with the shockwaves from the large and smaller fragments.
Well, it seems the decision-makers in the US Government are sitting up and paying attention to this event. The Chair of the Committee on Science, Space, and Technology Lamar Smith (a Republican to boot) has
issued the following statement
:
Science, Space, and Technology Committee Chairman Lamar Smith (R-Texas) today released the following statement after reports of an unforeseen meteor exploding in the sky above Russia early this morning, on the same day that a large asteroid is scheduled to pass relatively close to Earth.
Chairman Smith: "Today's events are a stark reminder of the need to invest in space science. Asteroid 2012 DA14 passed just 17,000 miles from Earth, less than the distance of a round trip from New York to Sydney. And this morning, a much smaller meteorite hit near the Russian city of Chelyabinsk, damaging buildings and injuring hundreds.
"Developing technology and research that enable us to track objects like Asteroid 2012 DA14 is critical to our future. We should continue to invest in systems that identify threatening asteroids and develop contingencies, if needed, to change the course of an asteroid headed toward Earth.
"Fifty years ago, we would have had no way of seeing an asteroid like this coming. Now, thanks to the discoveries NASA has made in its short history, we have known about 2012 DA14 for about a year. As the world leader in space exploration, America has made great progress for mankind. But our work is not done. We should continue to study, research, and explore space to better understand our universe and better protect our planet."
The Science, Space, and Technology Committee will hold a hearing in the coming weeks to examine ways to better identify and address asteroids that pose a potential threat to Earth.
It is now certain that the big factory that was damaged was not hit by a meteorite fragment, but instead the damage was also caused by the shockwave. This makes sense considering that most footage showed a lot, if not all, of the rubble on the outside of the wall in the street, and if there had been a roof on the zinc plant, it must also have collapsed.
Peter Brown, director of the Centre for Planetary Science and Exploration at the University of Western Ontario in Canada
has reported early analysis
for NASA that the shockwave occurred almost directly over Chelyabinsk, a city of about one million people, at 15 to 20 kilometres altitude. It caused a blast equivalent to between a 100 and 300 kilotonne of TNT—or some 20 Hiroshima bombs! The atmospheric entry angle was less than 20 degrees, which is probably fortunate—any steeper and it would be likely a lot more would have impacted the surface, at a whole lot greater velocity...
So this was the biggest blast since the Tunguska impact in 1908, a 40-metre object with a shockwave force of some 1000 Hiroshimas, which flattened everything over some 2100 square kilometres. Perhaps this latter-day experience will quiet UFO speculation that has centred on Tunguska since the Hiroshima era:
Ah ha! All is explained (from George Takei via Facebook, original source unknown):
Now here's a brilliant bit of cybersleuthing by Stefan Geens in Stockholm using just available video clips and Google Earth (and some clever maths). He measured angles of shadows:
And known locations to plot the trajectory:
There's more on his website
, which is well worth the short read.
Here's another security cam video that's surfaced, showing the flair, the delay to the contrail appearing, and a (much shorter) delay to the shockwave. It must have been further along from the city, where the meteor was then at a much lower altitude. The music playing in the background is quite awful, but there's an interesting thing happens after the shockwave hits, where the signal (assuming it's a radio) seems to be partially scrambled for some time.
NASA has revised the earlier calculations
on the meteor's size, mass and blast—significantly! Peter Brown has revised everything upwards (with my bolding):
The estimated size of the object, prior to entering Earth's atmosphere, has been revised upward from 49 feet (15 meters) to 55 feet (17 meters), and its estimated mass has increased from 7,000 to 10,000 tons. Also, the estimate for energy released during the event has increased by 30 kilotons to nearly 500 kilotons of energy released. These new estimates were generated using new data that had been collected by five additional infrasound stations located around the world – the first recording of the event being in Alaska, over 6,500 kilometers away from Chelyabinsk. The infrasound data indicates that the event, from atmospheric entry to the meteor's airborne disintegration took 32.5 seconds. The calculations using the infrasound data were performed by Peter Brown at the University of Western Ontario, Canada.
500 kilotons?? The nuclear bomb that destroyed Hiroshima was 16 kilotons, the Nagasaki bomb was 21 kilotons. So this shockwave was equivalent to 31 Hiroshima bombs. That warrants a pause to contemplate...
I think the people of Chelyabinsk can be very thankful the meteor wasn't a little lower...
A Russian pilot apparently captured this image of the contrail out the cockpit window (via Shuttle astronaut Terry Virts):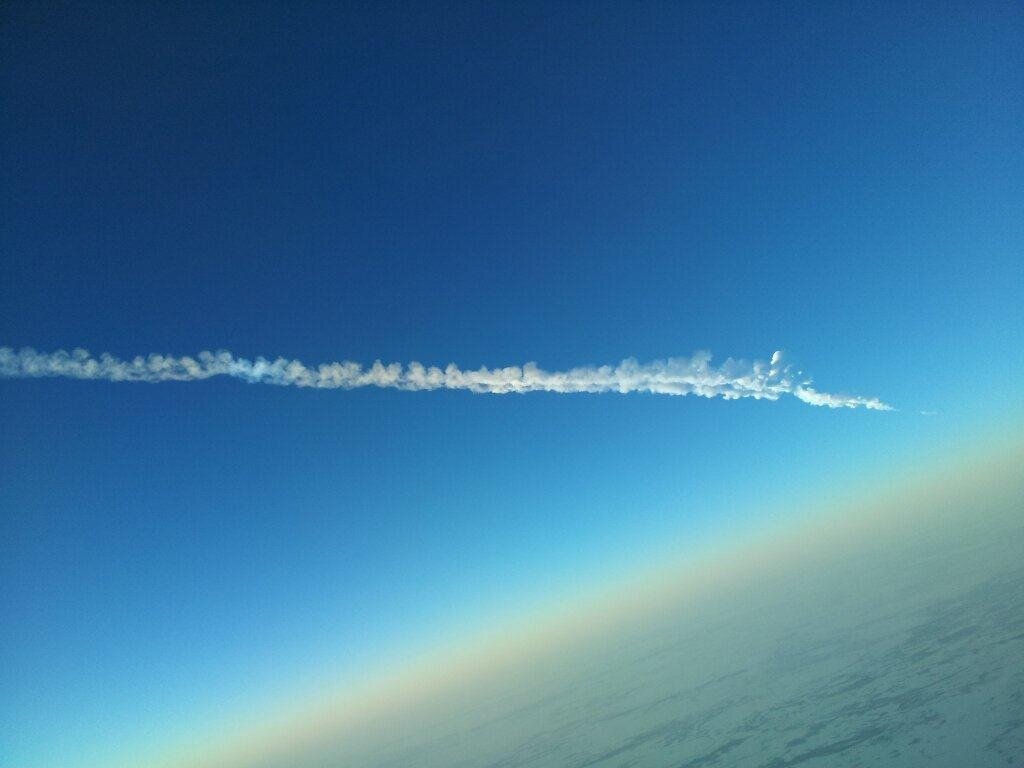 Thanks to Евген Петров (via post comments) for the next three additions to the post.
This is an interesting calculation
that was posted early on a Russian website:
Google Translates the accompanying text as:
Evidence of the Chief Engineer of the TV Center Pakhtusova 3-minute delay after the flash bang (on DVRs protection). Chief Engineer calculated 55 km (at 300 meters per second. -10 Degrees, high altitude, thin air). The distance from the shopping center to the epicenter about 47 km, height of flight - 25 km. Calculated by the method of Pythagoras - 54 km.
Not a really clear translation, but from this one photo, the person has estimated an entry angle of 10 degrees and altitude of 25 kilometres—versus NASA's guy calculating less than 20 degrees and 15 to 20 kilometres. So a pretty good demonstration of maths in action!
Watch these two buys get blown over by the blast inside their office (also note the incredibly cramped office space):
Another dashcam view of the initial pass 1:15 in, and immediate smoke trail, but regrettably doesn't run until the shockwave.
Some more cultural observations: they don't seem to use dividing lines on roads, and they don't react to amazing sights... Not a murmur from this woman when it happened!
Meanwhile, the search for meteorite bits continues.
About 50 fragments have been found
around the lake so far, but no big chunk responsible for the hole punched through the ice. Dive teams have been pulled out, with the city having (understandably) more urgent tasks ahead... And the meteorite material has been identified as chondrite, the most common form of meteorite material.
The meteor ingress was caught on camera by another satellite, Meteosat-9, in this short clip:
Here's a good summary of the global "forensic astronomy" effort
that was launched by the meteor, by research astronomer with the Australian Astronomical Observatory Simon O'Toole (
@drsimmo
).
UPDATE 26/2/2013: Some decent meteorite chunks have
finally been found
.
Some beautiful photos were taken of the event by a photographer
Marat Ahmetvaleev (marateaman)
. (You'll need to turn Google Translate on.) He was out taking beautiful landscape photos when this happened:
He obviously had great presence of mind to be able to capture the skyburst photo. There would have been little he could have done in time to get a less exposed photo. Taking the sorts of photos he was, he probably had the camera on manual settings, and unlike with an automatic point-and-shoot there just would not have been time to back the exposure down.
UPDATE 2 March 2013:
NASA has released
further extrapolation from the entry trajectory of the meteor, finding that it came from the asteroid belt between Mars and Jupiter.
The orbit also shows how it came at us almost from the line of sight of the Sun, explaining why it was not seen in advance, and leading to the obvious question of how many others are in that general direction?
Fascinating sleuthing.
I've commented earlier in this (lengthy) post about the near absence of reactions from Russian drivers witnessing the meteor, as evidenced by the lack of exclamations recorded on the many dashcam videos. Well this guy had two cams—one facing him:
Must have been a LONG shift... Case closed!
With 2000 views, this is now the second most-viewed post in my blog. Amazing...
Related articles